My Androvacuum review will break down all the facts on this electric penis pump. I'll lay out key points such as where to buy it, how to pump with it, and if it works as advertised.
This penis pump was a beacon of hope to me during dark times. Years of frustration over my lack of endowment manifested into physical symptoms I couldn't control.
My erections would dwindle to nothing as soon as they appeared. Fear of repeat incidences kept me trapped in a cycle of depression about my inadequate measurements.
The Androvacuum served as my personal sexual fitness trainer. Not only did it banish my erectile dysfunction, but I saw my manhood get bigger with time.
Androvacuum Penis Pump Background
At a cost of $199, the Androvacuum isn't your run of the mill penis pump. You won't find it sold alongside male sex toys or questionable pills and creams.
This electric penis pump is manufactured and sold by a legitimate medical company, Andromedical. It's a laboratory with over 24 years of experience in the field of urology.
The organization produces male enhancement treatments with a basis in science. This includes devices for Peyronie's disease and urinary incontinence.
Why To Choose Androvacuum?
Treatment with the Androvacuum covers a wide scope of issues. As I mentioned earlier, this electric penis pump acts like a trainer or coach for your penis.
It maximizes blood circulation to combat erectile dysfunction (ED).
It comes with cock rings (termed erection assistants) to sustain your hard-on after you pump.
This electric penis pump will also bring long-term improvements. Vacuum therapy is a proven method of reducing or eliminating chronic and acute ED.1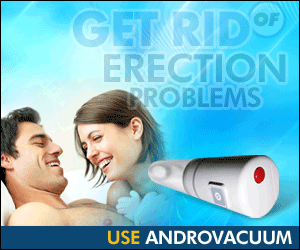 As for your dimensions down below, you can anticipate a visible boost. The Androvacuum stretches out your penile tissues with repeated use.
Advantages of Automatic Penis Pumps
If you've done the research, you probably know air pumps get a bad rap. It's easy to put common sense on the back burner when you're eager to build up your size.
Over-pumping isn't hard with a manual model. You'll get immediate results, but not the type you envisioned.
Pain, bruising, and bleeding under the skin can put you off pumping for life. Electric pumps are responsible for pumping without your intervention.
The device automatically forms a vacuum to a predetermined pressure. Quality models like the Androvacuum have a safety release to free your sensitive organ from the tube instantly.
Who Is Androvacuum Penis Pump For?
The Androvacuum is aimed at men with penises in need of rehabilitation. If that sounds too serious or intimidating for you, let me elaborate.
Yes, this electric penis pump is aimed at men who have undergone a radical prostatectomy. It's also targeted at users suffering from impotence or ED.
Pills and supplements take time to work, which can kill the mood. There's nothing less erotic than scheduling sex.
With the Androvacuum, you can enjoy a near-instant erection. As it's an external therapy, it isn't invasive like medications or last-resort surgeries (e.g., penile implants).
You don't need to fall into any of these categories to use the Androvacuum. Users who desire nothing more than a larger member can profit too.
Increasing your measurements is a natural consequence of regular pumping. The tissues will stretch over time, resulting in extra inches.
Why not augment your penis and improve how it operates at the same time?
Can Anybody Use It?
Men with penises no larger than 8 inches in length and 6 inches in girth can use the Androvacuum. Most of you won't need a prescription for it.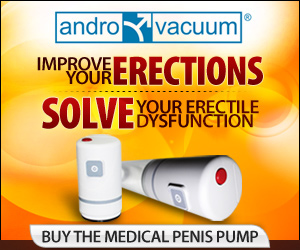 Any man with a diagnosed blood disorder will have to give the Androvacuum a miss.
Users who have had any sort of surgery on their penises will have to double-check with a physician first. The same goes for those of you with extreme Peyronie's disease.
Is the Androvacuum Effective?
This part of my Androvacuum review delves into effectiveness. Since it's made by a laboratory, we should expect higher standards than with the average penis pump.
User Success Rate
Customer satisfaction is an excellent way of gauging a product's effectiveness. When it comes to something you'll put on your manhood, it's an essential criterion.
The Androvacuum is reassuring in this respect.
Andromedical states that their penis pump is over 90 percent effective—those are pretty good odds.
Scientific Research
The Andromedical website has a wealth of studies on vacuum therapy for you to review. I'll sum up and simplify a few of them for you here.
One study found vacuum therapy significantly improved all aspects of erection quality. That includes length, girth, and rigidity.2
Patients reported satisfaction with their results—which isn't surprising. A powerful erection can be life-changing if you're accustomed to the disappointments of ED.
Devices like the Androvacuum don't discriminate against age or type of ED either.
Participants from ages 24 to 82 with varying causes of ED showed an overall decrease in symptoms.3
Another trial investigated vacuum therapy as a treatment after radical prostatectomy. Unfortunately, one of the side effects of this procedure can be penile shrinking.
The surgery is traumatizing enough. Losing thickness and length from your manhood is another harsh blow.
Penis pumps can prevent this loss from occurring in the first place. Participants enjoyed preserved length and enhanced sexual performance after the surgery.4
How Does the Androvacuum Work?
Androvacuum's capabilities are thanks to the power of pressure. By forming a vacuum inside the tube you put your penis in, blood is drawn into the organ by force.
This forced circulation happens no matter what you're thinking or feeling. The suction is successful even if your penis has nerve damage, and can repair function over time.5
That's why penis pumps are potent weapons against ED. You're guaranteed to get an erection—keeping it will come with practice and repeated stimulation.
As for a boost in measurements, you can thank cytokinesis, or cellular division, for that. You see, your penis isn't a muscle—it can't be bulked up.
That's probably a good thing. Otherwise, we'd all be walking around with enormous, heavy members in support hammocks.
The tissues the penis is made up of can be stretched. Penis pumps swell your member up, which eventually prompts cells to divide and produce new ones.
These new cells contribute to growing tissue.6 With dedication, that growth will become visible and measurable.
What to Expect: Timeline of Results
Don't miss this section of my Androvacumm review. Getting an estimated timeline of results will keep you motivated and prevent disappointment.
I don't mean that you'll be let down by the Androvacuum. Rather, you need to assess whether your expectations are realistic.
If you want to go from 5.5 inches to 9 inches, that probably won't happen. You can't expect to grow at a rate of 1 inch a week either.
The key is to keep pumping and persevere. You can't gain if you don't train—make that your motto.
First Use
If you've been struggling to get hard, your first time with the Androvacuum will be exhilarating. Your penis will be at full mast in 90 to 120 seconds.
Your member will also look impressively engorged. Prepare for lavish praise from your sexual partner.
The swelling will go down completely after a few hours—don't be downhearted. Remember that steely rigidness is within your reach at the touch of a button.
One Week
By now, your performance anxiety is beginning to dissipate. You can achieve and sustain erections whenever you please with the Androvacuum and a constriction ring.
Sex is no longer something you dread engaging in. Your penis feels fuller when erect, and you may find you're not as stressed about how things will go in the bedroom.
One Month
By one month, those of you who have lost size due to ED will see it start to come back. For prostate cancer survivors, length loss will no longer be so apparent.
Users without such issues may notice a slight size boost. Nothing major—maybe half-an-inch or less—but still progress.
You may find that the Androvacuum isn't always necessary to achieve an erection. Your partner will have nothing but complimentary things to say about your purchase.
Two Months
Two months will have your sexual fitness training taking off. The Androvacuum is ensuring daily sessions of peak blood circulation.
That will translate into results you can't dismiss as coincidental. With or without the penis pump, your erections will be stronger and longer-lasting.
If you've had to stop to use the Androvacuum in the middle of sex, you may no longer need to do so. Your penis is starting to stay hard without support.
Men using the erection assistant rings might receive a pleasant shock. Your widening girth will probably require a larger ring.
Heightened self-esteem is the cherry on top of the ever-enlarging cake. You'll start to regain confidence in your own abilities.
Three Months
By three months, you've gone from timid and meek to bold and self-assured between the sheets. You no longer need to pump yourself up before every sexual encounter.
You can begin scheduling sessions with the Androvacuum whenever you please. Your erections are reliable and substantially harder compared to the first day of treatment.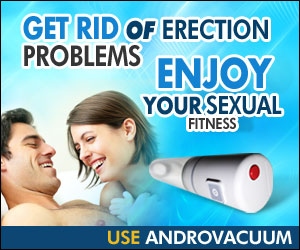 Growth is either sustained or improving, depending on the individual. Length and girth are proportionately enhanced.
Six Months
Six months has you feeling almost like your old self again before all the troubles began. As your daily companion, the Androvacuum has altered your penis completely.
Your upgraded manhood is thicker and longer. By now, your gains are up to a full inch or more in girth and length.
Weak, unpredictable erections are something you rarely encounter. You can feel the powerful flow of steady blood circulation every time you get hard.
One Year
The transformation after one year of Androvacuum training is miraculous. Worries and woes over your penis are nonexistent—or at least, infrequent.
Sex is a regular part of your life that you look forward to. Those of you with long-term partners will find your sexual satisfaction mutually restored.
Your penis bears little resemblance to what you began with. It's at least 2 inches longer, and up to 1 inch thicker. Luckier users may see even more growth.
If you compare and contrast measurements or photos from the pre-Androvacuum days, you'll be in awe. You have nowhere to go but higher up in your enhancement journey.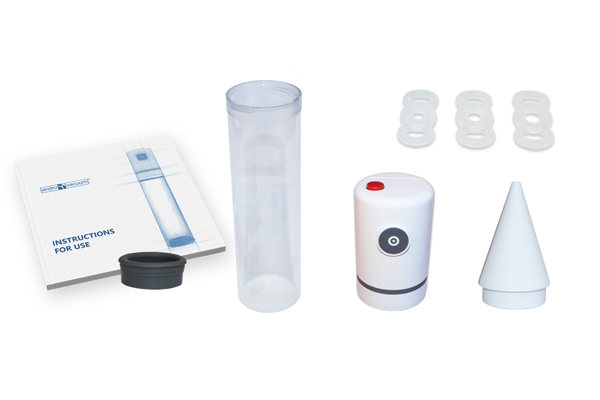 What Do You Get When You Buy the Androvacuum?
The Androvacuum is a comprehensive kit. You get all the necessities to begin rehabilitating your penis and amassing inches:
Androvacuum penis pump.
Androvacuum motor.
Two packs of Andropharma Vigor (men's health supplements).
Three Androrings (erection support assistants, or cock rings).
Androconical (support cone).
Androcushioning (support ring).
Androvacuum sealing gel (lube).
Instruction booklet.
How to Use the Androvacuum Electric Penis Pump?
The Androvacuum can be used specifically against erectile dysfunction (ED) or as ongoing rehabilitation or therapy. I've covered both methods for using this penis pump.
Guidelines: Treating Erectile Dysfunction
Find the erection support assistant (or cock ring) that fits you. Try the largest of the three first—you don't want it too tight.
Set the tube by itself on a flat surface, with the smooth end up. Place the support cone into the tube, conical side first.
Apply the sealing gel (lube) liberally to the surface of the support cone. Pull the ring down the cone using the handles on either side.
Once the ring is securely around the tube, remove the support cone.
Connect the tube to the motor part of the penis pump.
Position the cushioning ring at the end of the tube.
Liberally apply lubricant to your penis, the inside of the tube, and your groin area. Ideally, you should be neatly groomed—this will help to form a tight seal.
Insert your flaccid penis into the tube and hit the activation button. Keep pressing down on it for 10 seconds.
Once you're fully erect, free yourself by pressing the manual vacuum release button. Before you remove the tube, slide the erection support assistant ring onto your penis.
Remove the tube and get ready to have fun. Don't keep your cock ring on for more than 30 minutes at a time.
Guidelines: Sexual Fitness Therapy and General Rehabilitation
Lube up your penis and the tube, ensuring both are adequately slick. You don't want to go in dry, trust me.
Connect the motor to the tube and insert your penis into it.
Run the motor for 10 seconds, keeping your finger on the button. Stop for 5 to 10 seconds, and then begin again until you get hard.
Once you're fully erect, wait 30 seconds.
Release your penis by hitting the red button (manual vacuum release).
Let yourself go soft. Then, repeat the process again over the course of five to 10 minutes.
Frequency of Use
If you're using the Androvacuum for ED, you should use it before you have sex. Those of you planning marathons will need to wait at least 60 minutes between each session.
For sexual fitness, Andromedical recommends using the device at least five days per week. You should stop after you've managed five full erections or after 10 minutes—whichever comes first.
Androvacuum Penis Pump Review Pros and Cons
I know that my Androvacuum review is detailed. If you want the lowdown of the pros and cons, here they are:
Androvacuum Penis Pump Review
Pros
Excellent for serious rehabilitation.
Comes with cock rings to fight erectile dysfunction.
User-friendly features such as the conical support.
Suits men of most sizes.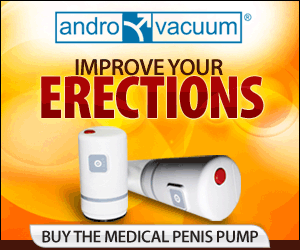 Androvacuum Penis Pump Review
Cons
Motor means it can't be used anywhere near water.
FDA certification no longer exists.
What Does the Androvacuum Promise?
The Androvacuum claims to tackle almost every penis-related dilemma you could have. Find out how you—and your manhood—could prosper.
1)
Treat Erectile Dysfunction
Medications and surgery aren't your only options. The Androvacuum guarantees you'll get an erection, and promotes better blood circulation in your penis with time.
2)
Rehabilitate Penises After Trauma
If you've had surgery or been treated for prostate cancer, you don't need more invasive treatments with potential side effects.
The Androvacuum can combat penile shrinkage, and won't affect anything besides your penis. Ensure you clear this penis pump with your physician first.
3)
Increase Penis Size
There's no reason to tolerate your dimensions: you can come to be proud of them. Widen and lengthen your penis with daily vacuum therapy, courtesy of theAndrovacuum.
Androvacuum Side Effects and Complaints
The Androvacuum isn't foolproof. That is to say; you can hurt yourself with it if you decide to go against the manufacturer's guidelines.
It's also possible that penis pumping brings up something you may not have been aware of. There are a couple of warning signs that signal something isn't right.
If you're following Andromedical's instructions to the letter, but you're feeling pain or getting bruised, see a doctor.
The list below consists of everything that isn't normal to experience while using the Androvacuum. Make sure to keep an eye on your penis after pumping for:
Pain or soreness.
Bruising.
Numb or cold flesh.
Small red dots under your skin (petechiae).
Androvacuum Review: Testimonials
The Andromedical website doesn't show customer reviews, unfortunately. Don't let that discourage you from the Androvacuum.
There's a 60-day money-back guarantee when you buy it. If you find that this penis pump is lacking, you can return it for a full refund.
Purchase Information
By now, you know all the pertinent facts about the Androvacuum. This section will share the final details you need to be aware of before purchase.
Where Can You Buy the Androvacuum?
The Androvacuum is sold by Andromedical on the official website. It may also be sold by other distributors, but I suggest getting it straight from the source.
You won't get the money-back guarantee with a third-party either. That alone makes it worth your while to buy from Andromedical.
How Long Does Delivery Take?
Buyers in North America and Europe can anticipate the Androvacuum arriving in two to five days.
Those of you located in South America or Asia will wait one week to 15 days.
Shipping Countries
Andromedical ships to North America (the United States and Canada) and Europe. It also ships to countries within Asia (Pacific region).
Is There a Warranty?
Besides the money-back guarantee, you receive a two-year warranty for the Androvacuum if you're in the EU. Buyers in all other regions get a one-year warranty instead.
Is Packaging Discreet?
The shipping label will read Andromedical—there's nothing untoward about that.
Are There Coupon Codes?
As of the date this article was written, the Androvacuum has been slashed from the original price of $400 to $199.
Best Electric Penis Pump FAQ
There are two frequently asked questions when it comes to the Androvacuum. I've answered both of these below:
Is It Safe to Use?
When used according to Andromedical's guidelines, the Androvacuum is safe to use.
Like any penis pump, it can cause injury if it isn't handled correctly.
Those of you with chronic conditions need to clear the Androvacuum with a doctor. For example, Peyronie's sufferers, prostate cancer survivors, men with urinary blockages, etc.
Can It Straighten Your Penis?
Vacuum therapy can be an efficient means of treating Peyronie's. However, it's safer to clear the Androvacuum with your doctor first.
Alternatives to the Androvacuum
Are you not entirely convinced by the Androvacuum? See if any of these four penis pumps appeals to you more. Learn more by reading our Best Penis Pumps Buying guide.
Bathmate Hydromax7
Does the thought of an electric gadget on your penis terrify you? The Bathmate Hydromax7 could be a reassuring alternative.
This penis pump works with water, meaning you can train in the shower or bath. You fill it up, and the water creates a comfortable pressure vacuum.
It has countless positive reviews from men who achieved their goals with it. At $157, it isn't cheap but it will cost you less than the Androvacuum.
Pros
Stimulating hydro-vacuum.
92 percent success rate.
Good value for money.
Cons
Penomet Penis Pump
Penomet is a vibrant line of penis pumps: there are six tube colors to choose from. This hydraulic model allows you to change the gaiters for varying intensities.
You can spice up your daily pumping sessions by alternating—leading to faster gains. The Penomet Standard kit comes with a single gaiter.
Users looking for more can buy Penomet Extra or Penomet Premium. Extra comes with three gaiters and is $197, a little less than the Androvacuum.
Pros
The Premium kit has five gaiters.
Can be used as an air pump.
Three-year warranty.
Cons
Can't purchase gaiters separately.
Bathmate HydroXtreme7
As a Bathmate penis pump, the HydroXtreme7 is water-based. You'll time your pump sessions to your daily bath or shower.
This model is for experienced users or men who are desperate for swift results. There are also many extras in the box to help you along.
The handball attachment lets you apply the maximum safe level of pressure to your penis. You can take your pumping to the next level without risking injury.
Pros
Ideal for experienced or impatient users.
Generous number of accessories included.
Powerful but safe to use.
Cons
Might be unaffordable for some users.
FleshPump
The FleshPump is the only other electric penis pump on our list. If you want something similar to the Androvacuum that won't break the bank, this penis pump could be it.
It's $99.95—one of the cheapest quality pumps I've reviewed. Manufactured by Fleshlight, this model does it all automatically.
The touch of a button begins the vacuuming process. Measurements are marked on the tube for you to watch yourself grow with repeated use.
Pros
Cost-effective.
Reputable manufacturer.
Tube doubles as a ruler.
Cons
Aside from lube, it doesn't come with any accessories.
Best Automatic Penis Pump Final Verdict
I recommend that any man with penis troubles consider the Androvacuum. It's a suitable and effective treatment for erectile dysfunction, whatever the underlying cause.
Using the Androvacuum can result in improved penile health overall. I find it hard to believe any of you would say no to stronger, longer-lasting erections.
You might have masterful moves, but if your manhood isn't at 100 percent, you can't show them off. Encouraging blood circulation with the Androvacuum will help.
For $199, my final verdict is that the Androvacuum is worth the money. Don't forget that you receive three cock rings and men's health supplements—who could ask for more?