The day I'd been dreading had come. Something was wrong with my downstairs department.
My date scoffed and left, never to call again. I wondered if I was nervous, but later I discovered the problem was present when I was alone, too.
I'd known for a while that something was wrong. I just wasn't having those desires much anymore. Then it was taking longer to obtain an erection, and it wasn't lasting long.
I decided to take control of the situation. I discovered Hims, and the results were cause for celebration.
What Is Hims?
Hims is an erectile dysfunction medication to help you get back in the game. You order online, and it's delivered straight to your door. There are several different treatments available under the Hims label, which tackle various issues.
You start with an online visit to the doctor. You're then given a prescription for the treatment you need. Hims is for all kinds of men, such as those who deal with:
Erectile dysfunction.
Premature ejactulation.
Cold sores.
Genital herpes.
Pubic hair loss.
But for now, I'm going to focus on erectile dysfunction—ED.
Does Hims Work for ED?
In short, yes—but how it works depends on what you get.
Hims offers you four erectile dysfunction treatment options:
Sildenafil.
Tadalafil (generic Cialis).
Viagra.
Stendra.
So as you can see, Hims isn't a type of medication in itself. It's a service that offers prescription medication of varying types for various needs.
Here's what they do:
Block the PDE5 (phosphodiesterase type 5) enzymes that relax veins within the penis.1
Increase blood flow to get and maintain an erection—possibly a stronger erection than you're used to.2
Help increase your testosterone levels, allowing your sexual appetite to rise and your body to achieve and maintain an erection.3 4
Potentially increase your desire for sex if your libido is low, by stimulating the appropriate brain chemicals.
Sildenafil
Sildenafil citrate is used in ED treatments like Viagra is, but it's also used in competitor products, which I'll get to shortly.
Sildenafil is best taken 30 minutes before you plan to have sex. It's the type of pill you pop toward the end of a big date and stays in your system for 4–6 hours.
It's good for infrequent or recreational use. If you're someone who's used to spontaneity or may be having sex more than once in a day, perhaps you should consider other options.
If this product is for you, Hims offers a generic Sildenafil pill for a low price. It works by relaxing your blood vessels, promoting blood flow to the penis. This gives you an erection that's harder and lasts longer than normal.5
Though you may be put off by its generic nature when offered by Hims, you have no need to worry. Sildenafil is the active ingredient in Viagra, and it's FDA approved.6
Sildenafil Side Effects
These are known and reported side effects of Sildenafil. You may experience none, one or some of the following:
Flushing.
Headache.
Insomnia.
Muscle/back pain.
Runny/stuffy nose.
Blurred vision.
Tadalafil
Here's one for the man in a relationship or the busy man who's used to a string of spontaneous one-night-stands. It can stay in your system for up to 36 hours, so if you pop one in the morning, you'll be set until the next day.7
Tadalafil is the active ingredient in Cialis, so that's what Hims is selling—generic Cialis. It's a daily dosage you get with the Hims product, which is fantastic. Some other online services don't offer enough for a daily pill, even with their top subscription plan.
If you need to put the bang back in the bedroom of your relationship, Tadalafil is the one to go for.
Tadalafil Side Effects
Reported Tadalafil side effects include:
Back/muscle pain.
Upset stomach.
Flushing.
Dizziness.
Viagra
Viagra is the real "OG," as the kids say—the little blue pill everyone knows about.
This is no ripoff—Hims has the real deal, and you can get a prescription from the comfort of your own home. No awkward visits to the doctor or pharmacy.
That's how all of this works—as soon as you sign up, you're on the path to your online doctor's appointment. The good news is that they're qualified to prescribe both the generic stuff and branded prescription medication.
Viagra is the most expensive treatment option available, which is why they don't sell it exclusively. It's not that they can't sell it like some other services, it's that they want to cater to everyone's budget.
If you want the Sildenafil but with the brand name, this is the treatment option to go for.
Viagra Side Effects
Known Viagara side effects include:
Headache.
Flushing.
Upset stomach.
Back/muscle pain.
Stuffy/runny nose.
Changes in vision.
Prolonged erections.
Of these side effects, you may think that a prolonged erection is something you just see in movies, but I know some who've experienced this. While funny at first, it can be the most embarrassing of the side effects.
Stendra
If you haven't heard of Stendra, that's because it's one of the newest (2012) ED products getting men back on the road to an erection.
The drug and active ingredient—Avanafil—are both FDA-approved, which is a good sign right off the bat. It can get to work in 15 minutes, and there are few side effects.8
Avanafil doesn't increase sexual desire, but it inhibits PDE and increases blood flow to the penis during stimulation.
This is another brand name treatment that's usually available through a doctor or pharmacy. Being able to get it online is discreet and works at getting rid of that awkwardness you might feel about the scenario.
Stendra Side Effects
Headaches.
Dizziness.
Flushing.
Cold symptoms.
Diarrhea.
Constipation.
Back pain.
What Is the Most Effective ED Drug?
What works for my ED may not work for your ED. Erectile dysfunction is a tricky beast, with pills catered towards every circumstance.
Stendra may seem like the best pill for the job based on how quickly it works—15 minutes is nothing to scoff at.
But, if you're basing effectiveness on how long the effects last, then the winner has to be Tadalafil—pills you can take daily that work throughout. It's more convenient than pills you take right before the act, I find.
How Much Does Hims ED Cost?
I mentioned the free consult, but how much does the actual erectile dysfunction medication cost? Well, it varies, from change to a chunk.
The erectile dysfunction treatments can be ordered as frequently or infrequently as needed. So whether it's a constant issue or an ED flare up due to stress, you're covered.
Here are your options:
Sildenafil: $30.
Tadalafil: $240.
Viagra: $425.
Stendra: $175.
The biggest brand name is the priciest, which was predictable. But I'd say the Sildenafil and Stendra prices aren't so bad.
Unfortunately, there's no specification about how much of each pill you're getting when you purchase.
Is Hims Trustworthy?
Hims, at first glance, appears professional and possessing one ultimate goal: to help men.
When you look deeper into it, you can see positive reviews mentioning little bad—none of those mentions of abysmal, disrespectful customer service online services often get. No horror stories about horrific side effects, either.
In my opinion, Hims is trustworthy, and the customer reviews share this sentiment. The products are defined, the customer service appears decent and the pills are FDA-approved.
The only thing you may need to worry about is the generic Sildenafil and Tadalafil. Hims doesn't share the other ingredients in its non-brand-name pills. Even so, doctors on the site may have this information, so don't be afraid to ask during your free consultation.
Much of the time, there's nothing to worry about with these ED pills, so long as you're getting the ED treatment from a source you feel comfortable with.
If you're not quite comfortable yet, Andrew, the founder of Hims, encourages you to speak out and ask. He states that Hims was made by real guys, and they're all excited for you to get your ED treatment.
Who better to quell concerns and provide excellent customer service to real guys than, well, real guys? But these guys just happen to be exceptional workers in their fields within men's health.
Hims' Downsides
There are numerous upsides to using pills to help combat your ED. Taking one will have you in for a good time. This can improve your mentality and your nightlife. It doesn't fix the underlying problem of your erectile dysfunction if it's not mental—but it does combat it as a symptom of something deeper.
Side effects are one downside to all erectile dysfunction pills, which I covered earlier in the review. The downsides in question now are from customers, about Hims as a company:
"As mentioned in my previous review, I am only sent enough pills for 5 days a month; I am out after about 10 days. The pills are good but not near enough."
Stuart
"It was an easy process and confidential. Shipping is slow. They send you a shipping confirmation, but it doesn't start to move for 3–5 days."
Scott
"Easy interaction, little slow on delivery, but otherwise very pleased."
Brent
As you can see, the downsides aren't side-effect-related, which is a good sign. The customer service is usually good and easy, but the shipping speed can be a letdown. The quantity of the pills is also a worry for some.
Hims vs. Roman vs. BlueChew
Hims isn't the only online pharmacy offering help with ED, so how does it fare against the other main protagonists in Roman and BlueChew?
Is Hims actually more effective than BlueChew? Is Hims offering more price-competitive ED meds than these other two behemoths? This next section of Hims vs Roman Vs BlueChew will explain it all.
Hims
Hims is an online men's health-focused pharmacy where you get prescriptions for what you want/need and buy it whenever you need it. It's then delivered to your door for free.
There are four pills for you to choose from: two generic and two brand-named. There's something for every preference and budget with Hims, by real guys, for real guys.
Furthermore, there are more than just ED medications on offer. Erectile dysfunction is only one issue Hims takes care of. Getting back on track in your sex life has never been easier.
Roman
Roman is a digital health clinic catering to the needs of men. It starts with an online visit, of which the first is free. You talk to a real physician within 24 hours, then whatever you need is delivered free to your doorstep.
Like Hims, Roman deals mainly with sexual health that isn't limited to ED:
Hair loss.
Premature ejaculation.
Cold sores.
Genital herpes.
For ED, the doctors prescribe Sildenafil and Tadalafil. Whether it's the brand names or generic versions is unknown.
However, Roman can only be used in certain US states. This is because the doctors are only licensed within those states and right now, and there aren't doctors for all 50.
Overall, Roman doesn't seem to be as good as Hims, nor the next contender, BlueChew. A lot of information you may want is unavailable, like what exactly the pills are and how much they cost.
On top of that, Hims is available in all 50 states—don't let your location restrict you! You deserve help from appropriate ED products, no matter where you are.
Hims definitely dominates Hims vs Roman
BlueChew
BlueChew is the only one on the list that caters for ED and only ED. Sildenafil and Tadalafil are the two treatments offered in generic form. However, these tablets are in a chewable form, which means they are absorbed quicker. That is extremely positive when you need an erection ASAP.
BlueChew is an online pharmacy where real doctors prescribe you the medication. You get it monthly with a subscription plan ranging from $20–90. It's discreet and easy, like Roman and Hims, only it's more focused on ED than anything else (Read my BlueChew review).
Quantity information is unavailable when it comes to Hims, but it's out there for BlueChew. So, it's hard to compare the price against quantity. However, Bluechew chewable pills have very competitive pricing, so it is hard to believe that hims can beat that.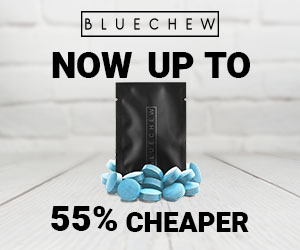 What I will say is this: hims is a very good service with its wide range of products, but BlueChew stands out, even more, when it comes to tackling ED.
So, BlueChew wins Hims vs BlueChew battle. 
So Who Wins?
That has to be BlueChew.
The site is friendly and approachable, and Blue Chew has a very quick and simple sign-up process.
Being solely erectile dysfunction focused gives you the confident that your concerns are fully understood and addressed in the best way possible. The prices are stated upfront, and so are the products, so you can tell your doctor exactly what you want.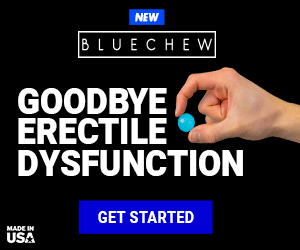 Hims for Erectile Dysfunction: Final Verdict
If you're the type of guy who knows what he wants, then BlueChew is the right choice for you. They will deliver a discreet envelope of ED pills to your doorstep without you having to worry about deliver-ability issues, as might be the case with hims.
So long as you have the money, BlueChew has the product. Take one of the chewable pills, and you're in for a good time.
I got my erectile dysfunction under control, thanks to Blue Chew. Maybe it's time you did, too, with BlueChew or any of the other services out there offering similar products.
This article has been medically reviewed by Dr. Shalaka Samant in November 2019