Sextopedia is a reader-supported website. We may earn a commission if you click on our links and make a purchase. 
It happens to the best of us. We get older, and our bodies don't always keep up with the youthful nature of our minds.
Sometimes, it can even happen to us when we're still physically young.
I got to the point where I could finally stand up—sadly only on my feet—and admit it. I needed help. I was tired of trying every night and getting nowhere.
My partner was understanding, but my ego was bruised. I couldn't let this carry on, so I did some research and hunted for a review.
I know about Viagra and Cialis but didn't want my doctor to review my private business. I wanted to go with something I could get discreetly.
I found BlueChew, and soon, I was back in the game. I needed to know how this magic ED solution worked. If you're interested, continue for my BlueChew review. I think this BlueChew chewable pill reviews rather well, so let's see if you agree.
What Is BlueChew?
BlueChew is an online service. It connects erectile dysfunction patients with trustworthy, understanding doctors who can help. BlueChew is something that's not available commercially like Viagra or Cialis. 
Maybe you don't like the idea of buying those well-known commercial products, and that's fine. BlueChew lets you solve your problems via an online subscription. It's private, and it's regular.
Unlike Viagra, the little blue pill, this is a little blue chew. These chewable tablets have helped countless men combat problems in the bedroom. It may help you, too. You deserve to reclaim your sex life.
BlueChew is marketed toward:
Older men, or those who have low testosterone, who can't achieve an erection — this leads to an imbalance of nitric oxide in the penis, causing ED.
Men with ED that's mentally brought on by stress or performance anxiety.
Those who want it for recreational use — for example, a big anniversary date.
Is BlueChew Legit & How Does It Work?
There are two active ingredients in BlueChew chewable pills you may recognize from other erectile dysfunction treatments, such as Viagra and Cialis. These are Tadalafil and Sildenafil. Both Sildenafil and Tadalafil are FDA approved.1 2 This means only one thing – Bluechew is legit and upholds to high quality standards set out by the regulator. 
Tadalafil is the ingredient in Cialis. Sildenafil citrate is used in Viagra and Revatio. You can choose either active ingredient when you're checking out with BlueChew.
Here's what these ingredients—combined with others—do:
PDE5 (phosphodiesterase type 5) enzymes relax the veins in the penis—erectile dysfunction medications safely block these enzymes.3
Increases blood flow to help achieve and maintain an erection—this can also increase the quality of the erection.4
Possibly stimulate brain chemicals into desiring sex.
Is BlueChew Chewable Pill the Same as Viagra?
BlueChew works in the same way as Viagra, but the two products aren't the same. First of all, you chew BlueChew, rather than swallowing a pill with water. 
The main difference between BlueChew chewable pill and any other erectile dysfunction treatment is how you obtain it. BlueChew, unlike Viagra and other medications, lets you eliminate awkwardness.
Viagra and Cialis are prescribed via your general practitioner. This can be embarrassing for some men, especially when there's no underlying issue, such as low testosterone levels. 
Erectile dysfunction treatments are also available over the counter, but that's not much better. The pharmacist will ask you questions about your issue, and your general health. They're being helpful, it's their job, but it can make even the toughest men blush.
Not to mention pharmacies are usually quiet. So any silent customers waiting in line or shopping around can hear about your problems.
BlueChew eliminates embarrassment. You still need a prescription for it, but it's all done online. The BlueChew-affiliated expert physicians will give you an online assessment, letting you hide your awkward expressions and cringe behind a screen. Then, if you're eligible, you get a prescription.
From then on, you can get your ED medication delivered monthly. It's a more discreet experience than going to pick it up from the pharmacy and is easier, too.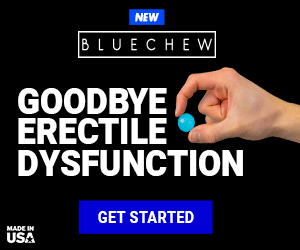 How Long Does BlueChew Take to Work?
BlueChew could start working within just 15 minutes. This is great if you don't want to wait around too long for it to kick in—sex is a hard thing to wait for, after all. Around 30 minutes of wait time before it starts working is more common, though.
But, be warned. If you're taking the Sildenafil BlueChew, you want to take it no more than 30 minutes before you plan to have sex. It has a much narrower time frame than Tadalafil before it stops working.
The fact the BlueChew is chewable pill is a big factor here. When you chew something, it breaks up, so the inner particles are exposed and swallowed. When you take a pill, it stays intact, so your insides have to do the work. This gives chewable tablets an edge, letting them work faster. 7
BlueChew Active Ingredients: Sildenafil and Tadalafil
Sildenafil is the kind of component you should use before the end of a big date—third date, wedding anniversary, birthday, stuff like that. When it kicks in, you may have as little as four hours to benefit from it.
Tadalafil stays in your system for 36 hours in the majority of cases. Take it in the morning as you're getting ready, and don't worry about your window of opportunity running out.
Think of them in this regard: Sildenafil is for special occasions, and Tadalafil is for regular intercourse. The latter is what you should use if you're married or in a long-term relationship. It can be taken daily, so you're always ready to go if you have a more active and regular sex life. 8
Other BlueChew Ingredients
If you're health-conscious like I am, you may be wondering what the ingredients other than the active ones are. Unfortunately, that information doesn't seem to be available at this time. I've scoured the web for BlueChew reviews, perused their site, and failed to get any information. Even BlueChew Reddit reviews have failed us—for now.
BlueChew currently seems to be an underdog. I'm sure we'll learn more about what goes into it in the future. As popularity increases, so do demands. Not to worry, though. The important thing is that it works, and the active ingredients (Sildenafil and Tadalafil) are both FDA-approved.
BlueChew Works But at What What Cost?
There are a great number of pros to using BlueChew offers or any erectile dysfunction medication. Here are some of the less technical but more personal-goal-related ones:
BlueChew Review:
Pros
You get your erection back.
You can go back to having regular sex (with Taladafil).
Your mentality improves, which combats ED caused by performance anxiety.
Available on a sneaky per-month basis over the internet, for convenience and eliminating awkwardness.
Here are some of the ones less about cheering for ourselves:
Enhancers are scientifically proven to help.
Absorbed quickly into the bloodstream for a swift payoff. 
ED treatments aren't as likely to cause side effects as other prescription medications.
A real, qualified doctor makes sure the treatment is safe for you, based on your information.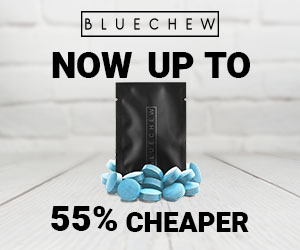 Of course, every silver lining is buried inside a dark cloud.
BlueChew Review:
Cons
Needs to be taken daily, in the case of Tadalafil.
May increase sexual appetite beyond your ability to satisfy it.
Won't treat the underlying cause, such as low testosterone, which requires hormone-replacement therapy.
Side effects, though unlikely, may occur.
Blue Chew Side Effects
I know, this is the dreaded section of every review. But there's no need to be worried; BlueChew is a tame medicine if you use it correctly, which involves only taking one.
I like to think of myself as a scientist—after all, I got a top grade in biology a million years ago. So I took it upon myself to take one for the team and take two pills.
While it did lead to a harder erection, it didn't last longer than usual, and it caused me a lot of pain. I also ended up with a headache on par with a migraine. They say sex can cure a headache, but not if it's also the cause of one! 9
I really don't recommend taking two at once. It may not even be safe in the long run and is very likely to cause side effects.
Now, here are the side effects that can—but hopefully won't—occur with the use of one BlueChew: 
Back and/or muscle pain.
Headache.
Blurred vision.
Upset stomach, leading to nausea or diarrhea.
Nasal congestion.
Increased blood pressure.
Is There a BlueChew Free Trial?
Though less costly than other medications, $20—the basic plan—per month is still a lot. A single payment of $20 is better saved than used for something that might not even work.
So, you're in luck. There is a free trial of BlueChew available, like most good subscription services. The free trial lasts 30 days, so you can see how well BlueChew works for you.
If one little BlewChew pill gets your sex life back up and running for a few nights, then you can go ahead and get the subscription once per month. Just make sure it's not a one-time instance of it working, though.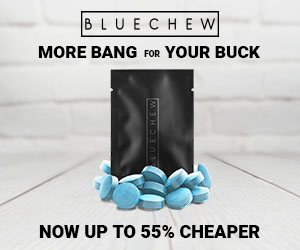 What Are the BlueChew Offers Alternatives?
There's always the old reliable Viagra and Cialis, but unlike BlueChew, Viagra and Cialis, and all those other offline-based treatments, don't give you much discretion.
Luckily, there are two other online-based forms of getting ED medication. I understand BlueChew may not be a one-size-fits-all deal, so take a look at the below alternatives. Let's hope one of these helps you get lucky.
LemonAid
LemonAid, unlike BlueChew, isn't based around only ED medication. It's an online pharmacy for all ailments, with ED being one of them.
However, its ED treatments pale in comparison to BlueChew's. The generic Sildenafil offered isn't strong enough to combat your issue, so the doctors on staff may direct you to take more than one ED pills. This will get the blood flowing, but it goes against what's recommended on the medication's label—a potentially risky move.
The subscription is cheaper than BlueChew, so you might think that's a bonus, but is it really? You have to take more than one ED pills to get them to work, so it balances out the price.
LemonAid seems to be less convenient than BlueChew overall. And remember what happened with two BlueChew pills—you have to be careful with these things.
Honeybee
Honeybee is another online pharmacy. The drugs are generic and inexpensive, delivered directly to you without hassle.
Both Sildenafil and Tadalafil are available with varying strengths. However, there are no doctors on the site, so you still have to go and get a prescription in person. This defeats the purpose of the online pharmacy! You've had to see a doctor in person, so a real pharmacy shouldn't be too much worse.
Meanwhile, BlueChew is all online, all discrete, all geared toward your comfort.
Hims
Hims is an erectile dysfunction medication to help you get back in the sex game. You can order online, and it's delivered straight to your door – no questions asked! There are several different treatments available under the Hims label, which tackle various issues, like ED, premature ejaculation, genital herpes, pubic hair loss, etc. 
Roman
Get Roman is a subscription-based service that requires you to answer a few questions online—and your ED pills are sent to your doorstep. They provide men with the most effective erection pills on the market – Sildenafil & Tadalafil.
Here is a pretty good article about Hims vs Roman in case you are interested in further details about these two ED players on the market. 
BlueChew Price
I mentioned BlueChew was $20 a month—and it is, at a starting point—but there are multiple tiers you can choose from if you have the need or budget for it.
Let me say up front that all the plans have a 30-day money-back guarantee if you aren't satisfied.
The plans—and the free trial—also include the doctor-consult and prescription, so let's break it down.
Sildenafil Plans
Active: This is the basic plan, which is $20 for six chewables per month. $3.33 each.
Busy: $30 per month for 10 chewables. $3 each.
Popular: $50 per month for 17 chewables. $2.94 each.
Pro: $90 per month for 34 chewables—that's enough to have satisfactory sex every day, and twice on most Sundays. $2.65 each.
It's important to note all chewables are 30mg. If you decide to go for another service, you have that number to compare your dosage to.
Tadalafil Plans
Tadalafil chewables are 6 mg each, which varies considerably to the Sildenafil amount.
At first glance, it seems like you're paying the same money for less power. But remember, Tadalafil stays in the system for over a day in most cases.
Here's the money breakdown for you:
Active: $20 per month for four chewables. $5 each.
Busy: $30 per month for seven chewables. $4.29 each.
Popular: $50 per month for 14 chewables. $3.57 each.
Pro: $90 per month for 28 chewables. $3.21 each
BlueChew Review Final Verdict
Erectile dysfunction is no laughing matter.
It doesn't just ruin our enjoyment of sex—but it can also cause mental health issues, result in loss of confidence and destroy relationships.
Yet, while often an under-discussed issue—most of us will experience this problem at some time in our lives.
However, the solution is remarkably simple.
Just taking one potent BlueChew chewable pill before intercourse will reawaken your hibernating penis. Using either the scientifically proven erection-enhancers of sildenafil or tadalafil—this product restores confidence, masculinity and pleasure.
Sure, you can use Viagra or Cialis—they're also effective products.
But the simplicity of consuming BlueChew, its easy online-availability and its immensely fast-acting characteristics make it the ideal choice. And, for an incredibly competitive price.
Bro, let me finish this BlueChew review with some advice.
Head over to the official website now and take them up on their trial offer—you've nothing to lose—except your limp member.